ADAM BYATT'S PERFECT EASTER LAMB
Executive Chef at Charlie's, Brown's Hotel, Adam Byatt talks us through his favourite Easter recipe: roast lamb, Boulangère potatoes and broccoli with anchovy sauce.
"We're going to do a lovely lamb dish for Easter. You can use racks of lamb or lamb leg, but racks of lamb are a beautiful thing to cook. We're going to roast the lamb and cook it on top of Boulangère potatoes, so everything can drip through. We're going to serve with broccoli and an anchovy dressing."
"The first thing to do is make Boulangère potatoes. You start with King Edward potatoes. Peel them, slice them really finely and then layer them in your dish. It might seem fastidious but it really does help if you take your time. You don't want them to be too thick; otherwise, when you cook the lamb on top it'll take a really long time. I prefer it to be thinner. Then between each layer of potatoes, I'm adding these wild onions, which have been cooked down with butter and seasoning, for around 45 minutes so they're really soft and caramelised. They're really sweet and unctuous. Then I add more potato slices on the top, and I tend to season every second layer with salt and pepper, then chicken stock. Ladle it over the seasoned second layer, then just keep going until you've used everything up."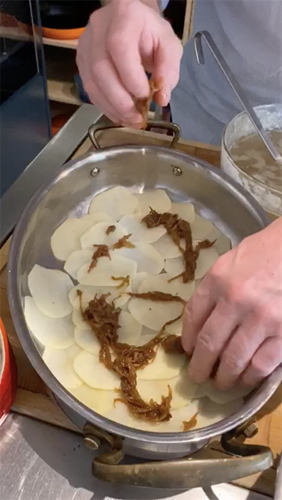 "So that's all the potatoes layered up really nicely, now you just season with a little bit of olive oil, butter, some picked thyme, stock and a bay leaf. Then it's into the oven at 170, for 30 minutes."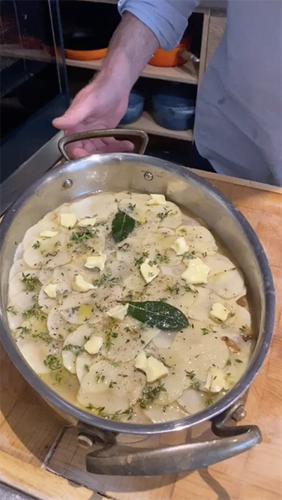 "Moving on to the racks of lamb, season them up, and have a pan ready with olive oil, not too hot. You want to pop them in the pan, render the fat down in this relatively cold pan, soften it, and once it's nice and brown on the fat side, turn it over and brown it on the meat side, too."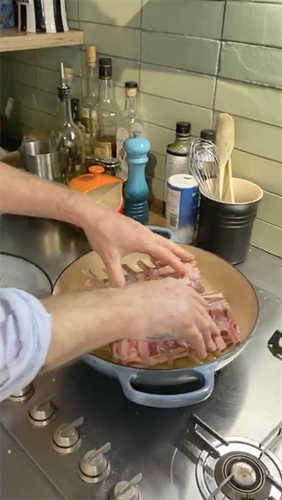 "This lovely dressing I always serve with lamb. All you need is peeled garlic cloves. Pop them in a pan, then add simple anchovies and milk. That goes on the stove, and you boil it all the way down, until the milk has evaporated."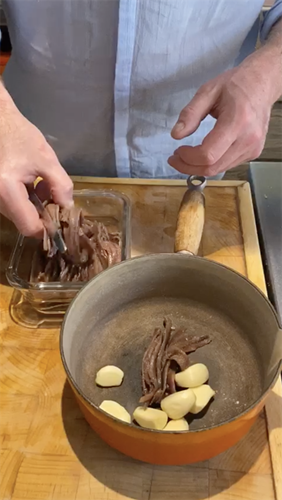 "The potatoes will have had about 30, 35 minutes by now. Starting to cook, but not finished; they'll need around 20 minutes more. The lamb has been browned and rendered; you want to pop the lamb on top of the potatoes, add some of the juice from the pan on top - not too much, it's very rich - and pop it all back into the oven for 20 minutes."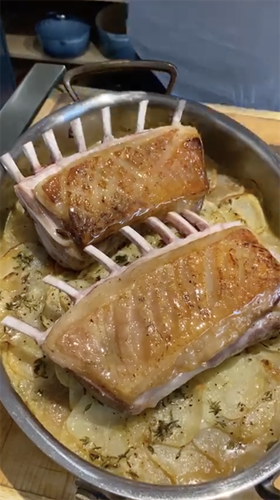 "Now go back to all the lovely garlic, anchovies and milk, reduced all the way down. We're going to put this into a little blender with a little teaspoon of Colman's mustard, which helps to emulsify everything; I'm also going to put one egg yolk in there and olive oil. Once that's all blended together, you've got a beautiful anchovy sauce."
"The perfect accompaniment to this lamb dish is a broccoli dish. I would like to have purple sprouting broccoli, but I don't have any; I've just taken some large broccoli, peeled the stem down, not removed it, blanched it in boiling salty water, refreshed it, and put it into a hot skillet, just to get some colour on it. Then I arrange these in my plate from Charlie's and really drown it in the anchovy dressing, really fill it up, and I think that's a wonderful accompaniment to the lamb."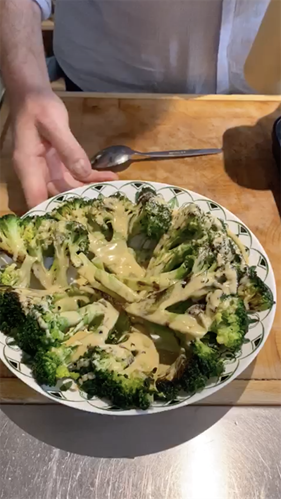 "So the lamb has had another 15-20 minutes in the oven. And it's rested for a further 25 minutes. It's really important to let that meat come back, relax and all those juices stay inside the meat. All you then need to do is take the lamb out, carving it through the bones with a nice sharp knife. I like to put that lamb back into the pot and just serve it on top of the potatoes like so; I add a little bit of salt to the inside of the lamb now as it's not had any seasoning. Then to finish up that broccoli, add a bit more anchovy dressing, and grate a little Parmesan over the top. This is my Easter lamb dish."