Five Memorable Experiences to Enjoy in Puglia this year
Puglia is the jewel of Southern Italy, steeped in history with a wealth of vineyards and a dazzling coastline to explore. Be it a honeymoon or a family escape, Puglia is the perfect destination for all ages to enjoy a healthy dose of Mediterranean sunshine and a much-needed change of scene. From a private cooking class in a scenic farmhouse to a lesson in the art of making fresh burrata, invigorate your senses with five memorable experiences to enjoy in Puglia this year.
Spring cooking class at a country farmhouse
Celebrate the spring with a memorableevening in the pretty town of Conversano, housed in a gorgeous masseria farmhouse where passionate chef Mara and chef/sommelier Marina will uncover the secrets of Apulian cuisine. A hands-on cooking class awaits, where you'll prepare a delicious menu, paired with Marina's personal selection of wines. Discover traditional dishes, including frittata with zucchini, mint and traditional lamb fricassee concluding with a delicious pastry dessert of ricotta and sweet fruits, known as a 'pastiera'.
Spring morning bike ride with olive oil experience
Breathe in Savelletri's early morning scents as you wind through a cyclist's paradise of leafy olive groves that are wonderfully flat, making them perfectly accessible for all ages and levels. Electric bikes are also an option, providing a gentle boost during the morning's guided tour if desired. Weave through idyllic countryside led by a local guide until you reach a scenic 15th-century masseria, where you'll be greeted by a charismatic owner and led on an interactive olive oil tasting tour of the estate. End this wonderful morning by cycling back to the masseria  along the coastline through a local fishing village.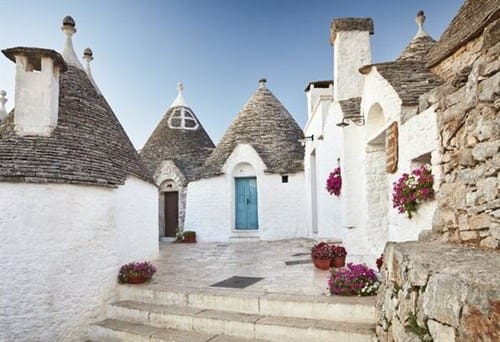 Uncover a hidden museum in the protected village of Alberobello 
Spend a day exploring UNESCO World Heritage site Alberobello, home to 1000 traditional trulli houses, on a guided walking tour along the legendary aqueduct. Built in the early 1900s, the aqueduct spans nearly the same length of Puglia, taking you through the charming surrounding countryside lined with oak and cherry trees. Upon arrival at Alberobello, you'll enjoy a private aperitivo in a secret garden within the popular heritage site and explore a hidden museum set within a beautifully restored trullo. 
Freshly made Burrata in a farmhouse nestled in Itria Valley 
Spend a glorious morning or afternoon exploring the famous aqueduct from another vantage point, as you wind your way through the postcard-perfect countryside of Itria Valley. During a guided walking tour, you'll pass the region's traditional trulli houses before reaching a picturesque farm where local artisan Giorgio will introduce you to the wonderful world of cheese making, taking you through centuries-old traditions that culminate in the freshest handmade burrata. Settle down to a delicious lunch of small plates before returning to the masseria.
Explore majestic Alto Salento with a luxury picnic delivered by vintage tuk-tuk
Discover Puglia's heritage, striking countryside and fresh local produce during a half-day or full-day excursion with a luxurious picnic. On this unique guided tour, explore the 25,000-year-old archaeological remains at Santa Maria D'Agnano, the ancient shrine of Sant Oronzo, patron saint of Ostuni and Lecce as well as Grotta del Millenari accessed through a forest hike. Round off the trip with a guide of Ostuni, known as the "White City", where strong Arabic influences are noticeable in the "Casbah" of the old town. The full-day tour will include a delicious picnic nestled in the scenic olive trees, where local refreshments will be brought to you via a vintage tuk-tuk called an ape calessino. 


Book a refreshing escape to Masseria Torre Maizza resort in the heart of Puglia, opening in spring 2021. Contact our concierge by emailing reception.torremaizza@roccofortehotels.com or telephone +39 080 482 7838.