Notes from a Whisky Ambassador
Few drinks have such an emotive connection to the collective identity of a Country as Scotch whisky.  From legendary Highland distilleries to the iconic SCOTCH whisky bar at The Balmoral in Edinburgh, the 'golden nectar' runs through the country's cultural veins.
To find out more about whisky, we meet one of Scotland's leading whisky ambassadors, and Bar Manager at SCOTCH, Cameron Ewen.  As a renowned whisky  specialist, Cameron is at the helm of the exciting new initiative  recently launched at The Balmoral in partnership with premium whisky brand, The Macallan.  The Scotch Club is an exclusive club of whisky enthusiasts , offering members their very own whisky keep at SCOTCH, becoming part of an elite international coterie of whisky lovers.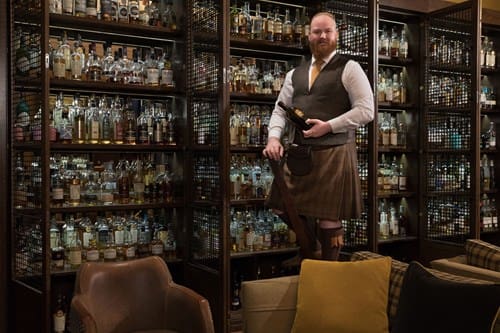 When did you first discover your love for whisky?
I've been drinking whisky since I was 18 years old and that's when my interest really sparked.  I've worked in hospitality since I was 16 and always been the go to person for the subject wherever I had worked. The norm at 18 year old is to drink beer but I always wanted to explore whisky.  When I did eventually start drinking whisky, I didn't like my first taste but the second one really surprised me. The contrast in flavour ignited my passion and curiosity, I couldn't understand why the same liquid could taste so different and I just had to learn more.
What was the first whisky destination you visited outside of Scotland?
The Jameson Experience in Dublin was my first experience at a 'whisky destination', that was long before I was drinking Scotch whisky.  I was on a family holiday and we fully embraced the culture of Irish whiskey.  It has remained close to my heart, I adore Irish whiskey, it's a nice close cousin of Scottish whisky and it is always amazing to see the passion of another Country for their National Spirit.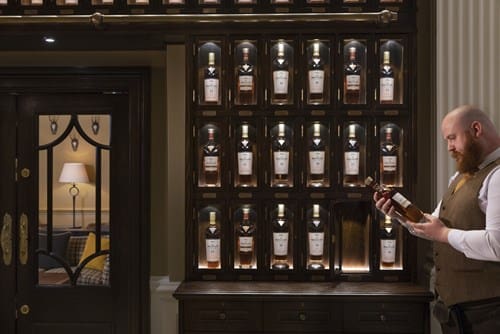 Leaving aside Scotch whisky, what would be your top three whiskies from around the world to keep an eye on?

When looking at whiskies outside of Scotland, Westland in Seattle is a perfect example. They have some very innovative production methods using different types of casks and I can't wait to see what they bring to the industry in the future.  Kavalan in Taiwan is also one to keep an eye on, they utilise warehouses with high humidity to enable the casks to influence the whisky a lot quicker than we can do here in Scotland.  Down under, Australian distillers, Starward or Lark are doing fantastic things, they have less strict whisky legislation around production.
What is an insider tip for investing in whisky as either a beginner or an experienced collector?

Do your research, whisky is still quite risky to purchase at auction sites.  Look at previous sales records and figures, seek out desirable brands, and brand names that consistently perform well.
What is the most exciting or unusual international whisky brand, outside of Scotland, you have come across?

There is one in Ireland called Method and Madness who are experimental.  In Scotland oak casks are used, whereas they are allowed to use species like chestnut or mulberry, which gives the whisky maker some interesting flavours to work with.
Who would you rate as an up-and-coming whisky brand to watch for investment and prestige collecting?

I'm starting to see a lot of new upstarts!  Daftmill, a distillery in Fife, has a few interesting new releases every year. Ardnamurchan in the West of Scotland is an independent bottler who has already mastered the practice of making whisky. They launched in 2016 and their first bottling of 2,500, the Ardnamurchan 2016 AD, sold out overnight. These two distilleries are both relatively new brands so it is really interesting to follow their releases year on year.
At The Balmoral's new Scotch Club, which premium whisky should guests experience?
With the Scotch Club, we have a fantastic relationship with The Macallan.  There is a forty-year-old from the Red Collection, the Number 6 Decanter, the Reflexion Decanter. All of which are amazing snapshots of what the distillery and whisky makers can do with their historical and well-aged casks.
Other than SCOTCH, where would you suggest guests visit to truly experience Scotland's whisky at its best and most unique?

Whisky for me is all about the drink.  Two places I love drinking whisky in Scotland are the Highlander Inn in Craigellachie, which is a small B&B with 600 whiskies and is run by a Japanese gentleman who fell in love with Scotland.  I would say Johnnie Walker Princes Street is somewhere I will certainly be returning for a dram.  In their two bars, there is a fantastic array of often archived whiskies from the Diageo Vaults. It is also a great place to experience some of the very best whisky cocktails.
Discover a world of whiskies while visiting SCOTCH at The Balmoral Hotel with tastings overseen by leading whisky ambassador and Bar Manager, Cameron Ewen.