Seasonal Pairing Recipes: Hotel de Russie
Dish:  PANZANELLA e MOZZARELLA By Chef Fulvio Pierangelini
"I have chosen this recipe for you because it is fresh, healthy, tasty and delicious; perfect for the hot season thanks to the fresh vegetables. I am fascinated by the idea of ​​the wonder of a peasant dish, related to the idea of not wasting the bread, such a precious commodity, in harmony with nature and with the seasons.
Only popular wisdom, love, and skillful gestures of housewives in preparing daily food can create magic with few resources."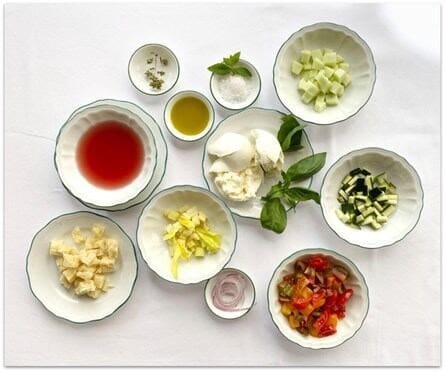 Ingredients (serves 4 people):
Stale bread – 200 grams

Red wine vinegar – 100ml

Extra Virgin Olive Oil – 4 tablespoons

Green, red, yellow tomatoes of different types – 12

Celery – 1

Cucumber – 1

Courgette – 1

Basil - 30 leaves

Oregano 

Mint

Fennel seeds 

Fior di latte mozzarella – 500 grams
This recipe comes from tradition; the quantities are free according to taste or determined by the fresh ingredients you have found at the market... or in your fridge; satisfaction and good taste are guaranteed at any rate.
Method:
Cut the bread into 1cm cubes. Sideways

Wet the stale bread in a solution of water and vinegar to make it soften and flavour

Cut the raw vegetables into small pieces (similar to the bread cubes)

Season the bread and vegetables with oil, salt and pepper

Chop the basil and oregano and add to the salad

Marinate the mozzarella with oil, fennel seeds and mint for about an hour

Carefully arrange the bread and vegetables on a plate

Break up the mozzarella with your hands and position it on the salad 

Finish with a round of fresh pepper and a drizzle of oil and balsamic vinegar
Cocktail: GREEN MARY By Paolo Dianini - Stravinskij Bar
Ingredients:
Gray Goose Vodka 45 ml

Green tomato extract 40 ml

Cucumber extract 30 ml

Celery extract 10 ml

1 teaspoon of green radish 

3 crushed green peppercorns

1 teaspoon of salt

4 drops of Tabasco
Method:
Cool the glass with ice 

Mix the listed ingredients together

Shake vigorously, garnish the rim of the glass with salt, garnish with mint and basil leaves and a cucumber twist
Chef Fulvio Pierangelini's Italian favourites can be enjoyed while you relax at Le Jardin de Russie. From the elegant dining room, replete with stylish classically-inspired accents, to the verdant outdoor terrace surrounded by mature pine and flowering citrus, Le Jardin de Russie offers stylish Italian cuisine in sublime surroundings in Rome.
Revelling in Roman influences and ingredients, Chef Fulvio Pierangelini's gourmet à la carte menu showcases a tantalising array of local dishes, including fresh cacio e peperavioli, gnocchi with burrata, broccoli and anchovies, and grilled lamb ribs served with crushed broad beans and Roman chicory. Finish off your evening by retreating to Stravinskij Bar for a night cap steeped in style and history.
For more information or to book your next escape to Hotel de Russie in Rome, please email our concierge at reservations.derussie@roccofortehotels.com or call +39 06 32 888 830.