Surreal Insights with the Curator of the Design Museum
Kathryn Johnson, curator of the Design Museum's seductive exhibition, Objects of Desire: Surrealism and Design 1924 – Today, shares surprising insights into the fantastical world of Surrealism.
What are the key pieces you are especially proud of including in the exhibition?
For the London run of Objects of Desire we're proud to display recent works by many leading female artists and designers – my favourites include a dress by Iris van Herpen with wonderfully intricate surface decoration inspired by some of the first neuroscientific drawings, and a sensory sculpture by designer and artist Najla el Zein. 
These are encountered alongside works by the great female artists who helped to define Surrealist practice, including designs by Meret Oppenheim, photographs by Claude Cahun and paintings by Leonora Carrington and Leonor Fini.
Surrealism has an enduring appeal, why do you think that is?
Mateo Kries and Tim Marlow tackle this question in a conversation for the book I edited Surrealism and Design Now. Mateo described Surrealism then as, "an invitation to liberate yourself". 
I think that gets to the heart of its enduring appeal – Surrealism invites and inspires, rather than instructs. It also has a philosophical basis that anyone can engage with, not just working artists or designers. 
And then there's Dali – who was, and continues to be, a hugely and unashamedly popular figurehead of the movement. It was thrilling to include some of his most iconic works, like the Lobster Telephone, in the show, along with lesser-known gems such as the Disney short film Destino and the 'Telephone Compact' that was Dali's first design for Schiaparelli.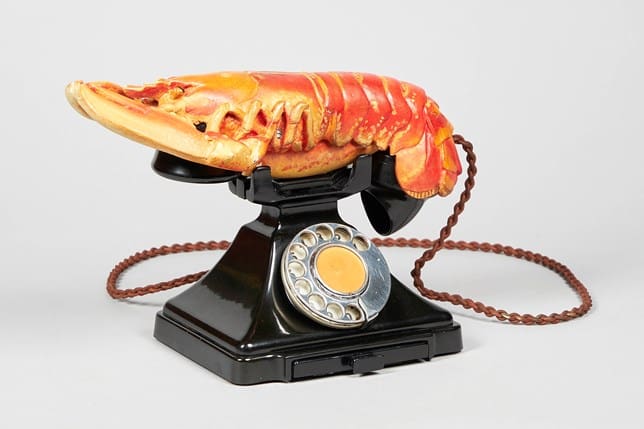 What do you think Surrealism can tell us about art and society at the time? And how does that influence design today?
Dunne & Raby, pioneers of speculative design practice, speak in Surrealism and Design Now of the need for design that "nourishes our inner worlds". I think that need is a thread linking the 1920s to the 2020s, and Surrealism to contemporary speculative design. 
"Surrealism invites and inspires, rather than instructs."
Focussing on Surrealism in Brussels, Berlin and London. Why was the movement felt in those cities?
London was an international meeting place and refuge in the 1930s for European thinkers, including Sigmund Freud, and artists connected to Surrealism. The British poet and art collector Edward James – who turned his Sussex home, Monkton House, into the most complete Surrealist interiors in the world – was also a very important Surrealist patron. 
He arranged for Dali to meet Freud in London, and in the exhibition we show Freud's visitor book recording that day along with Dali's delicate portrait sketches of both Freud and James.
Networks and friendships were ideologically as well as practically important to the early Surrealists, and one or two people would become magnets for others to gather – this was also the case in Brussels and Berlin. 
How can visitors get the most out of their visit?
Don't rush it! There is a lot to see and take in. The exhibition is a theatrical and elegant space, with a wonderful graphic design scheme by Violetta Boxill and rich colours. You can spend some time just soaking up the atmosphere as well as studying the works on display. 
Creating surprising juxtapositions was a key principle of Surrealist practice and it also defines our curatorial approach. It's an exhibition that's intended to be thought-provoking and inspire fresh ideas and approaches to Surrealism.
Visitors to Hotel Amigo won't have missed the design references to Belgium's own surrealist painter, René Magritte. Whether in Brussels or London, you can uncover the extraordinary world of surrealism. Stay at Brown's Hotel, just 20 minutes by car from London's Design Museum, and explore the movement in more depth.
You may also like
When considering the wonderful, whimsical world of surrealist artist René Magritte, Brussels lies at the start. Belgium's capital is where he won his first solo exhibition, where a chance meeting led him to the love of his life, and where he spent the majority of his prolific career. The two are irrevocably intertwined. 
To help you get into the holiday spirit, we've rounded up a few of the supper spots, bars and shopping districts attracting a younger crowd in London, Rome and Munich. 
As more and more employees embrace 'bleisure' trips, what are the secrets to successful and happy breaks?