Taste the Flavours of Sicily with chef Fulvio Pierangelini
Sicily, with its timeless charm and miles of captivating coastline, is irresistible, and the sun-drenched cuisine, bursting with goodness and local character, will ensure you return. Italy's renowned chef, Fulvio Pierangelini, is the Creative Director of Food for Rocco Forte Hotels and has perfected Sicily's most-loved dishes for the menu of our spectacular new restaurant, Florio, nestled in the leafy grounds of our newly-opened Villa Igiea, a turn-of-the-century palazzo at the edge of vivid Palermo. Here, he shares with us why Sicilian cuisine will have always have his heart.
Which ingredients, flavours and dishes is Sicily most famous for?

"In Sicily, even the cuisine is the sum of the various cultures and religions that have followed one another over the centuries. The vastness and difference of the terrains brings a profound biodiversity that characterises the island and its abundance of diverse produce. 
The most iconic ingredients are many, I particularly love ricotta, pistachios, capers, ancient grains, tenerumi, citrus fruits, tomatoes, blue fish and extra virgin olive oil."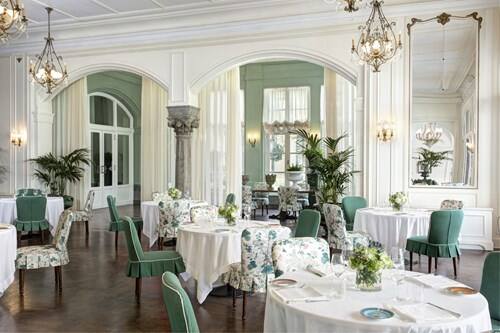 Which dishes on your menu bring these flavours to life? 
"The iconic Sicilian dishes that never fail in our menu are: caponata, arancine, cannoli with ricotta, sarde a beccafico and almond granite."
Which local wines would you recommend to accompany these dishes?

"The most identifying wines of this land come from the volcanic territories: Etna Bianco (White) from the Catarratto grape; Etna Rosso (Red) from the Nerello Mascalese;wines made by Grillo grape and Marsala. More recently, the new wave of biodynamic wines have begun to find a natural expression in this blessed land."
Where in Palermo can you discover more local delicacies?

"Palermo is the capital of street food, at every corner you will find pane e panelle (Sicilian fritters made from chickpea flour wild fennel, generally are put in a sandwich), stigliole (barbecued lamb intestines), fried fish "al cartoccio", the popular and delicious pane con la meusa (spleen and other offal), sfincione (a baroque pizza) and his majesty the arancina. My favourite Palermo street markets include Capo, Ballarò and Vucciria."
Experience the best of Sicily by combining a trip to Villa Igiea in the heart of Palermo, with a coastal retreat to Verdura Resort, immersed in 230 hectares of sun-kissed Mediterranean coastline and home to a rejuvenating spa and two championship golf courses.