Temple to Tintin: The Most Unique Suite in the World
"Just our luck! The one time we manage to catch the culprits they turn out to be innocent! It's really too bad of them!" exclaims Thomson. "You'd think they'd done it on purpose!" sighs Thompson, in their hunt to reclaim the Castafiore emerald*. The magic behind Belgium's favourite cartoon series is its thrill-seeking yet relatable characters, including the endearing Thomson and Thompson twins and their matching bowler hats. Tintin's charming sense of humour and thirst for adventure have earnt him cult status around the globe, transcending all ages with his gripping tales and inimitable style.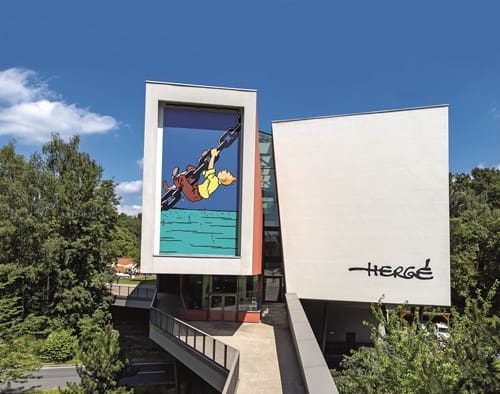 © Danny Gys- Atelier Christian de Portzamparc – Hergé Moulinsart 2021
"The Adventures of Tintin'' is a series of 24 books by Belgian cartoonist Georges Remi, who wrote under the pen name Hergé. The series soon became one of the most popular European comics of the 20th century, making first edition comics, original art, related games and figurines highly collectable and loved the world over. You will understand, then, why we feel so honoured to host the world's first and only Tintin Suite at Brussels' Hotel Amigo, thanks to our exclusive partnership between Hotel Amigo, Moulinsart and Hergé Museum.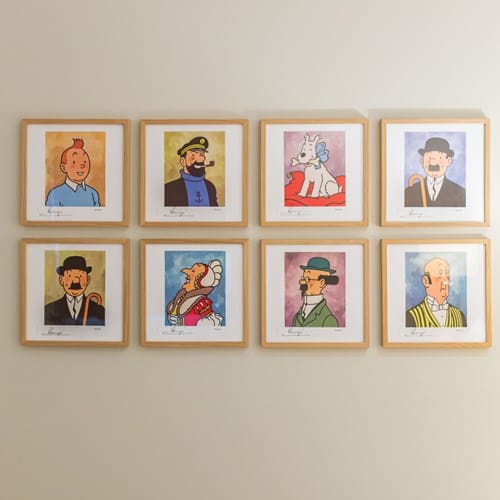 © Hergé-Moulinsart 2021
Olga Polizzi, Director of Design for Rocco Forte Hotels, is renowned for the undercurrent of storytelling in every interior she creates. The idea of an homage to Belgium's unofficial national hero was an enticing one to the designer, who is also known for intuitively reflecting a spirit of place. Hotel Amigo, a former imperial prison, stands splendidly on a cobbled street just minutes from the iconic Tintin mural. 
This imaginative process culminated in Moulinsart agreeing to collaborate for creating and providing decoration for a suite, conceived by Polizzi, that would uniquely celebrate the cult Belgian figure. The stage was set for one of the most imaginative hotel interiors on the globe.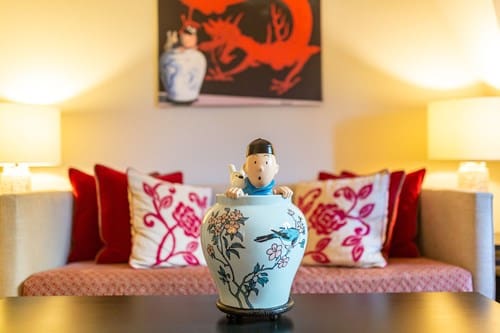 © Hergé-Moulinsart 2021
Polizzi used custom-made wallpaper in subtle shades as a canvas backdrop to the striking and rare original Tintin prints created and provided by Moulinsart. During your stay, you are greeted by a large depiction of Tintin in an Oriental scene from The Blue Lotus comic book itself, one of the many wonderful artworks on display. Others show local locations such as Brussels' flea market, La Monnaie Theatre, and the Royal Palace that inspired Hergé when he wrote his storylines.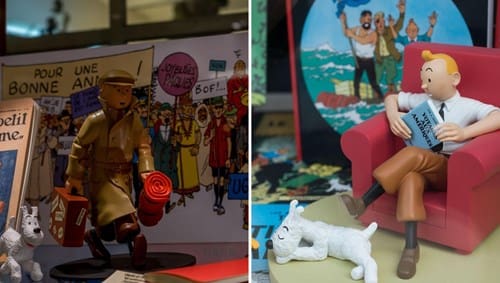 © Hergé-Moulinsart 2021
Along with Tintin, Snowy, and Captain Haddock, is a fourth, invisible resident, Hergé. The larger-than-life author and cartoonist was immortalised by Andy Warhol, and upon meeting the eccentric artist, asked him whether Tintin might not be considered Pop Art also. He knew that his creation was a symbol of an age that went far beyond a comic book. The Tintin Suite is the visual heart of the iconic figure, who even gave rise to his own phrase, Tintinology. A light-hearted design flourish and rooted deep in Belgian artistic culture, this unique suite is an escape into a more adventurous world.
Families are able to take advantage of the interconnecting rooms to create a larger suite. They can also enjoy a guided tour created by our concierge for children, sending them on a treasure hunt through the city with Tintin and Snowy. The magical mood of the day will be started with a Tintin-themed breakfast station for little ones with a truly Belgian flavour. 
* The Castifiore Emerald by Hergé. Published 1975 by Little, Brown and Co. 
Stay at Hotel Amigo and explore the world of Tintin, visiting The Hergé Museum and staying in the Signature Tintin Suite. Speak to our knowledgeable Concierge, who can create a Tintin itinerary tailored to you. Book by emailing reservations.amigo@roccofortehotels.com.