The Inspiration Behind the New Menu at the Donovan Bar
To celebrate our 185th birthday, there is a no more fitting person to curate a cocktail menu than our very own Maestro, Salvatore Calabrese.
One of the most famous mixologists in the world, for our newly launched menu at The Donovan Bar, Salvatore took as his inspiration the many legendary personalities who have been connected to Brown's Hotel since 1837. 
Aptly named Once Upon A Time, the menu has all the ingredients to fuel and ignite an unforgettable evening.  Featuring several of Salvatore's own collection of priceless vintage liqueurs, the menu's alluring array of cocktails are named after, and inspired by, a character or moment associated with our storied history, from actors to musicians to wits and mavericks. 
Here, Salvatore shares his thoughts about our exciting new cocktail menu now waiting to be discovered at The Donovan Bar.
What was your starting inspiration behind the new menu at The Donovan Bar?

Our new cocktail menu is called Once Upon a Time, and it's all about celebrating Brown's and its 185th anniversary.  As London's oldest hotel, myself and the team at The Donovan Bar are honoured to play a small part in its history, one that has seen wave after wave of world-famous characters pass through its doors.  This menu commemorates the great and the good, as well as legendary events and occasions that have made Brown's the place to be over the years.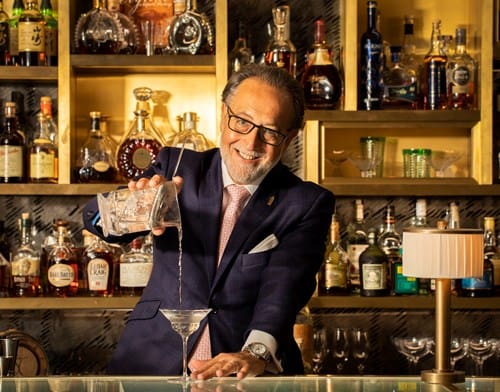 How did you go about choosing the personalities to be included in the menu?

Researching 185 years of history wasn't easy, there were so many people and events to choose from!  In the end, we selected characters who are iconic and occasions that have stood the test of time.  You'll have to visit Donovan Bar to find out more!  
What was your process to match drink ingredients to each personality?

Myself, alongside Bar Manager, Maurizio Palermo and Director of Mixology, Federico Pavan, meticulously researched each personality to see what their favourite drinks and tastes were, or how they were linked to Brown's, whether it was the fact that US President Franklin and Eleanore Roosevelt honeymooned at the hotel or crime doyenne Agatha Christie was very partial to the Afternoon Tea - probably with her daily jug of cream to drink on the side!
What is the most unusual liqueur found on the menu?
Personally (and without any bias), I think there are two special standouts that include liqueurs from my own vintage collection. 'The St George' cocktail has Amer Picon, which was first created in 1837, the same year that Brown's opened, by a French mixologist as a tonic for malaria.  And secondly, 'The 1837' incorporates a 155-year old Rouyer Cognac – guaranteeing a taste of heady heritage in every sip!
Which cocktail of the new menu would you say is the most visually impressive?
All of the cocktails are created with a touch of theatre which result in striking presentations, one of the most 'wow' cocktails is 'The Winston', which arrives in a theatrical bubble-shaped glass and, of course, a swirl of cigar smoke – in memory of Churchill and a perfect choice for any budding statesman!
Do you have a personal favourite cocktail on the new menu?
Can I have two?  I am of course honoured to be included on the illustrious role call of iconic people and have a cocktail named after me on the menu.  So my cocktail, 'Si, Maestro' has to be my favourite, of course!   I see it as a love letter to my native Amalfi Coast, it is a clever twist on my famous Breakfast Martini, with alluring notes of Amalfi Lemon Marmalade and my own aromatic Liquore di Limone, Acqua Bianca - molto delizioso!  My other favourite cocktail is 'Harry's Star', a White Lady-inspired cocktail inspired by the world-famous bartender and whom I most look up to, Harry Craddock.  Harry was a legend of the Jazz Age and worked at Brown's in the 1950's.
Discover the exciting new cocktail menu at The Donovan Bar, reservations highly recommended