The Perfect Multi-Generational Holiday
As Dr Samuel Johnson once said, "By seeing London, I have seen as much of life as the world can show". London is a microcosm of what the world has to offer from jaw-dropping architecture to world-class interactive museums. A stay at Brown's Hotel places you, and your family, in the perfect location from which to enjoy a private tour of the city's iconic landmarks, discover London's multicultural markets and vibrant street art, or hop onto a speed boat down the Thames, and gain a new perspective on the city's most iconic landmarks.
Inspire Creativity
Private Street Art and Markets Tour
London is one of the few truly global art hubs, where Old Master museums collide with cutting edge commercial galleries, but in recent years the colourful graffiti and street art has become a must-see in itself. Kids of all ages will love exploring this other side to the city, and our private child-friendly guide will lead you through the alleys and annexes of Shoreditch, Spitalfields and Brick Lane in East London to discover extraordinary murals and hidden scribbles from urban Picassos such as D*Face and Banksy. 
Adventure Seekers
Private RIB charter on the Thames

Experience views of the city aboard a private speed boat and hold on tight as the RIB shoots down the river at 30 knots past the London Eye, Shakespeare's Globe Theatre and the iconic Tower Bridge. A spy themed adventure, an actor-guide and trained powerboat handler will whip guests down the Thames to the sound of the James Bond theme tune. The trip ends with a turbo blast through the Docklands, past Canary Wharf.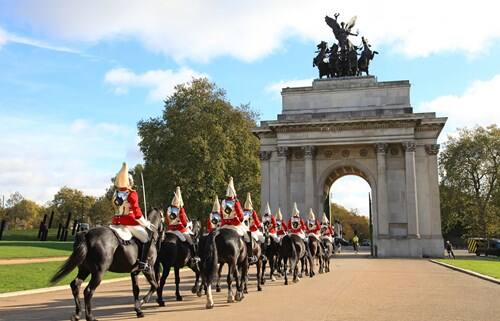 Time Travel
Private Iconic Tour of London for Kids
Our child-friendly guide will collect you from Brown's in a chauffeured car and whisk you on an interactive journey of 2000 years of history, visiting iconic landmarks with a few hidden treats thrown in along the way: we'll pop into the Queen's favourite tea trader, meet some pigeon-eating pelicans, feed over-friendly squirrels and pat horses at Horse Guards, among some truly memorable London-centric activities, each tailored to children's ages.
 Special Moments
Back at the hotel: Plenty of treats
After a busy morning exploring London's iconic sights, it's time to soothe your senses at The Spa at Brown's. Adults can indulge in an array of treatments, including an aromatherapy massage or Irene Forte facial, using plant-based ingredients from our organic Sicilian farm. The little ones will love being pampered too, with a range of child-friendly spa treatments including manicures, pedicures and massages. Then, as a family, enjoy a quintessentially British afternoon tea, and if you're celebrating why not add champagne, cake and balloons. And don't forget to explore our fun seasonal activities, from cooking classes to meeting Father Christmas himself on Christmas day.
Explore London's tapestry of buildings and landmarks with the whole family when you stay at Brown's Hotel. Book by telephone on +44 20 7493 6020 or by email at reservations.browns@roccofortehotels.com.