Introducing the new Sir Paul Smith Suite at Brown's Hotel
A secret suite has been kept carefully under wraps on the first floor of Brown's Hotel. The special room can now be revealed as the vision of our friend and neighbour, the eminent British designer, Sir Paul Smith.
"It's a great privilege," Paul shares, revealing how he felt about being asked to design a space for Brown's Hotel, "and I've had a great deal of fun in the process!"
Just a few doors down from our hotel, hidden behind an eye-catching iron façade, you'll find Paul Smith's Albemarle Street store. It's through this remarkable shop – an art gallery and shop in one – that our partnership came about. This jewel-box of a store holds a special meaning for both Sir Paul and Olga Polizzi, Rocco Forte Hotels' Director of Design, who share a love of original design.
Paul highlights how the two worked so well together, "just as Brown's does with its rooms, we design every Paul Smith shop differently to celebrate the area's individuality, which is just one of the reasons the project appealed to me." 
His suite at Brown's Hotel reveals Paul's personal touch in every detail. Before you even enter, you know you're in the right place. Yes, his signature on the front door is a slight giveaway, but there's another clue. The handle has been replaced with an unpolished brass banana, a detail that, you'll note with a wry smile, is typical of the humour behind the man and his brand.
Why a banana? The design is a subtle nod to the Christmas bauble Sir Paul created in 2019 to honour the 125th anniversary of Rudyard Kipling's The Jungle Book, which was written during the author's visits to Brown's Hotel in 1894.
There's another reason both Sir Paul and Brown's Hotel share a soft spot for monkeys. His first children's book, The Adventures of Moose and Mr Brown, features a loveable monkey named Mr Brown – a further reminder of Sir Paul's wit. It was entirely fitting that he chose Brown's Hotel for the book's launch party.
Once inside the suite, note the clever use of Paul's signature stripe motif throughout and personal touches. Can you spot the fire 'dogs', custom made to resemble Homer, Paul's first canine shopkeeper? If you need a hint, look for the glint of a thigh-length bronze boot – a coal bucket in disguise.
Most intriguing of all is the floor-to-ceiling feature wall festooned with Sir Paul's personal collection of framed pictures and treasured objects. See if you can locate the picture taken by Paul's photographer friend, Julian Broad, who shot his wedding pictures. 
"I'm so pleased we've been able to include objects that inspire me personally," shares Paul, "and I hope, in turn, they'll inspire the guests staying in the suite."
Pull up his 1970s leather desk chair – one of several pieces relocated from Paul's office at his Covent Garden HQ – and take a seat at the writer's desk. Gaze up to admire abstract artworks and a cubist painting emulating Braque. Below it, an original portrait shows a man in a blue sweater – a pensive young Paul Smith, perhaps?
The wall is just as fascinating when viewed from a distance. Sink into the deep-sea hued sofa in the middle of the room and let the straight lines of an Anglepoise lamp draw your attention back to the gallery wall. See if you can spot a mini robot standing next to handcrafted pottery cups or a folding wooden ruler, encased behind glass as if it's a work of art.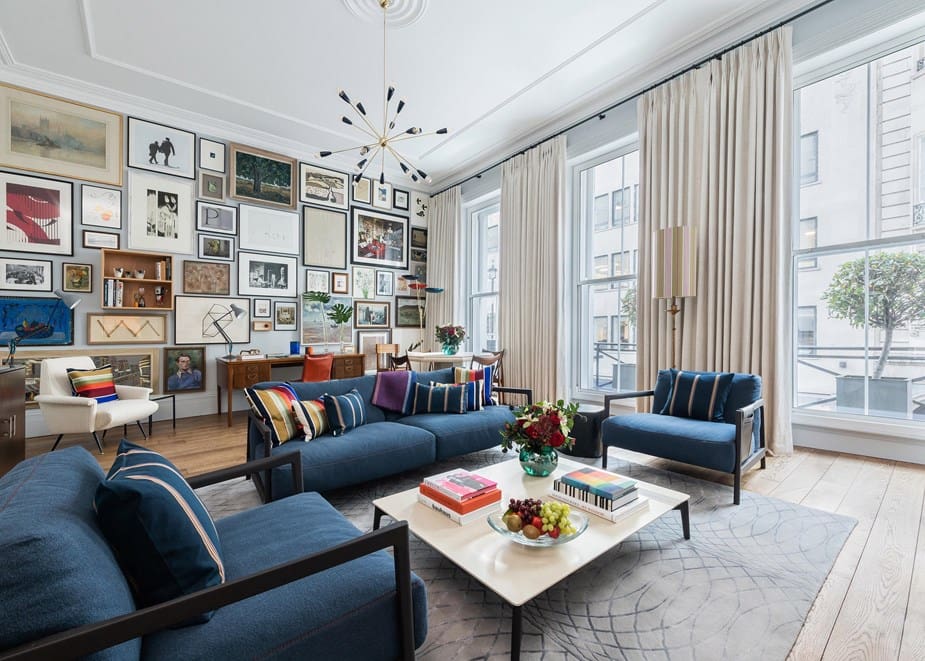 As you walk into the bedroom, softened hues and subdued lighting invite restful slumber on an invitingly large king-size bed. Pops of yellow are restrained to a camomile colour and, for extra snuggle, you can use the Paul Smith throw provided at the foot of your bed.
As guests staying at Sir Paul Smith's suite will discover, the space he has created for Brown's Hotel is unique – a timeless blend of quality and craftsmanship. The designer is not only our neighbour but a creative ally, sharing a distinctly British sense of humour and a meticulous approach to design, all with a twinkle in his eye.
To enquire about the Sir Paul Smith suite at Brown's Hotel please get in touch by emailing  reception.browns@roccofortehotels.com or calling +44 20 7493 6020.