Off Piste Winter Adventures in Europe
Waking one winter morning to find a blanket of snow has fallen overnight, you'll want to grab your sledge, get your skates on and discover the best winter fun in Europe. Pack your woolly hat and ski gloves and feel the excitement of the first frost.
Sledging in Munich and Edinburgh
When snow falls over Munich, look beyond the lively city to the Bavarian Alps where peaks punctuate the sky – the perfect terrain for a day on the slopes. Even closer to home, within a 15-minute drive of The Charles Hotel, lie urban hills for racing down on a wooden sledge, sled, tray or toboggan.
Take your sledge to the top of Olympiapark, ten minutes' drive from our hotel, and ascend the 60-metre tall Olympic mountain for the highest sledging fun in Munich. Your run is made even better by the panoramic views over the city and the beautiful lake below. From there it's a 20-minute walk to Luitpold Park with its choice of fast and slow runs over a 30-metre sledging hill. Protected from the sun on the north side of the park, the snow here is firm and long-lasting, promising a fast and thrilling descent.
If your base is The Balmoral in Edinburgh, walk 20 minutes south to The Meadows where gentle slopes, particularly appealing for younger snow fans, lie ready to be discovered. If you're looking for more of an adrenaline kick, climb up to Arthur's Seat following a flurry of snow and take on the steep surrounding slopes.
Curling in London
Gold medallists in curling at the Winter Olympics, Team GB excels at a game that resembles bowling on ice. Glide over to The Curling Club's pop-up in the Southbank Centre, a 30-minute walk from Brown's Hotel, and try your hand at this fun game of physics and tactics. Enthusiastically and vigorously sweeping the ice in front of your stone, you'll speed it on its way to the target area.
Entering The Curling Club on the banks of the River Thames feels like walking into an alpine snow globe with festive music playing in the background. Charming chalet style huts are set up for winter drinks and warming apres-ski street food, from bratwurst with sauerkraut to raclette fries.
Ice Skating in Brussels
Whether pirouetting, twirling, racing your friends or clinging onto the sides like Bambi on ice, there's something for everyone when skating. Gather your friends and family, grab a pair of skates, and get on the ice.
Every winter, the historic heart of Brussels, the Grand Place, transforms into a festive wonderland where the scent of roasting chestnuts and sweet mulled wine permeates the air. A minute by foot from Hotel Amigo, the cobblestone square becomes home to an ice rink, where you can skate to your heart's content while marvelling at the kaleidoscope of colours projected onto the surrounding buildings.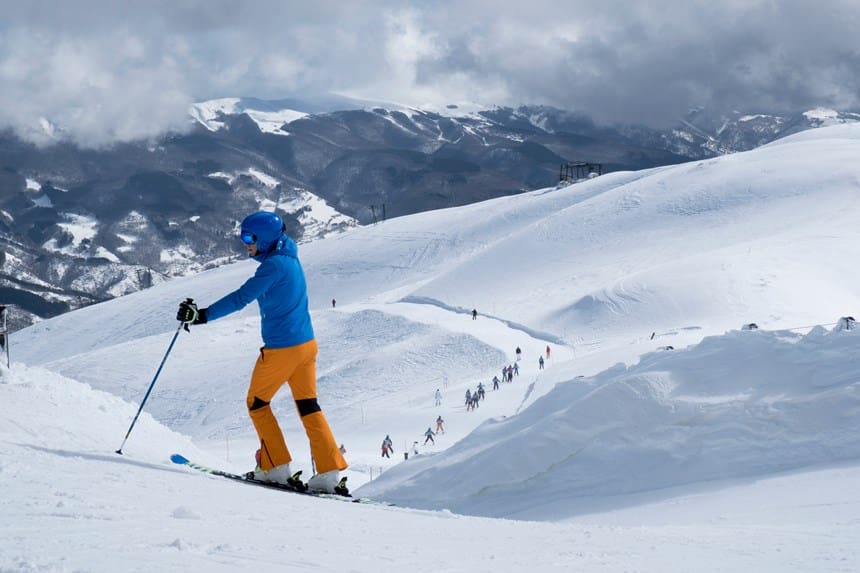 Skiing in Tuscany
If you're in Florence this winter and find yourself craving some crisp snow, you may be surprised to learn that Tuscany is home to a ski resort, just a 90-minute drive from Hotel Savoy.
Possibly the region's best kept secret, the resort of Abetone is a good bet for winter snow with a peak of 1,892 metres. Visit on a beautiful blue-sky winter's day and you'll discover mountains thick with snow and slopes for skiers of all skill levels, from blue run snow ploughers to black piste whizz kids, the resort has 54 kilometres of runs – stretching out to the length of Lake Como – to schuss, slalom and carve down.
Skiing, skating, sledging or curling, you'll find a flurry of winter fun in Italy and Belgium, Germany and the UK this winter when you stay at your favourite Rocco Forte hotel. Want more? Read our Alpine Adventures and discover why The Charles Hotel in Munich is the best base for winter sports.
Available for all your requests, our hotel teams are ready with creative solutions and extraordinary experiences; contact us and allow us to help plan your next adventure.