Three Beautifully Sustainable Day Trips...
Nestled in the heart of leafy Sachsenhausen is Villa Kennedy, the perfect base to explore Frankfurt and discover everything from visiting Goethe's childhood home to exploring the Green Belt, Germany's largest inner-city forest. To make the most of our partnership with Polestar, who produce the most stunningly designed and sustainable vehicles on the road, we want you to get behind the wheel, venture beyond the historic centre and embark on a road trip of a lifetime. 
Sustainability is one of the Rocco Forte family's passions and as part of our mission we want our guests to experience environmentally conscious style and substance. At Villa Kennedy, our concierge can book you an elegant 100% electric car, or a test drive in either the Polestar 2, or the Polestar 1, a performance hybrid car to explore the beautiful towns and villages around Frankfurt.
Heidelberg sits in stark contrast to Frankfurt, planned and built in the 13th century, it was one of the few major German cities to be spared the destruction of World War II. Positioned halfway between Stuttgart and Frankfurt, about an hour's drive from Villa Kennedy, it is the perfect place to get lost in history exploring the centuries-old Heidelberg Castle and visit Germany's oldest university. The castle is a combination of different German architectural styles and surrounds a magnificent inner courtyard. The views of Heidelberg and the Neckar River from its gardens or Great Terrace are beautiful and if you have time, you can explore the castle's basement to get a glimpse of the world's largest wine barrel. There's also the Pharmacy Museum to explore, housed in the castle, which will take you through 2,000 years of medicinal history. 
After stepping back in time, wandering the cobbled streets and exploring all this vibrant, medieval city has to offer, head back to your Polestar and cruise along The Philosopher's Walk, on the other side of the Neckar River from Heidelberg Castle.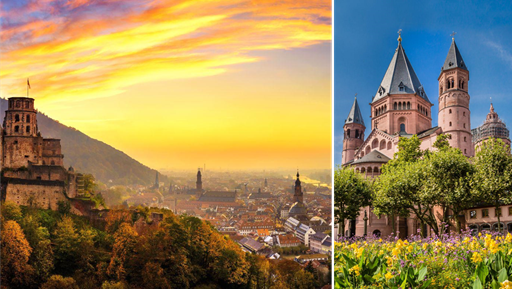 An hour north of Heidelberg lies the city of Worms, known as Germany's oldest city (its history goes back some 6,000 years). It was one of the imperial cities of the Holy Roman Empire and where Martin Luther King pleaded his cause. The Romanesque Cathedral of St Peter, the smallest of the three Rhenish Imperial cathedrals, is one of the city's most important landmarks and contains splendid Gothic reliefs and an intricately decorated portal.  
But if you want to get a taste of the region's epic scenery closer to the hotel, Mainz, only a 40-minute drive away from Villa Kennedy, is home to a rich wine-growing tradition, splendid Romanesque architecture, fascinating museums and quirky boutiques and coffee shops. Head to Gutenburg museum to see the earliest known woodblock print as well as 15th-century world prints and learn all about Johann Gutenberg's printing press. Opposite the museum stands the imposing Mainz Cathedral, predominantly Romanesque in style, which houses tombs of former powerful prince electors as well as works of art dating from 500 to 1500AD. Then sample some typical regional cuisine at the elegant restaurant Bellpepper, which overlooks the Rhine, before heading to the Botanischer Garten for a relaxing afternoon strolling along walkways filled with thousands of plants and flowers from around the world. 

Discover one of Europe's most beautiful regions in sustainably stylish comfort with Polestar when you book a room or suite at Villa Kennedy via +4969 71712 1430 or reservations.villakennedy@roccofortehotels.com, and receive a room upgrade, complimentary breakfast and day use of a Polestar vehicle, subject to availability.