Exclusive Trips with Fulvio Pierangelini: discover his culinary secrets
A series of exclusive culinary retreats led by Rocco Forte Hotel's Creative Director of Food reveal his passion for Italy's exquisite ingredients.
Immerse yourself in Italy's fascinating history by listening to anecdotes about different recipes, and contact us to register your interest in our future culinary retreats.
Savouring Southern Sicily - The Sicilian Countryside and its Traditions
"I try to imagine dishes that resemble the place that you're in, no matter where it is in the world," says Fulvio Pierangelini. "I also choose premium local products that reflect the different seasons and cultural sensitivities." It's this philosophy that provides the cornerstone of a very special four-night trip to Verdura Resort.
This culinary retreat starts in Verdura's own organic garden, which provides much of the produce for the Rocco Forte Hotels restaurants. It's here that the learning begins, with cooking classes and a meal. You might master how to make exemplary pesto or weave Sicily's almonds or citrus fruits into delicious dishes. Then enjoy a menu specially created by Fulvio to showcase the island's produce.
Local ingredients are the star of the show. "Simplicity is being able to find the right produce and ingredient and then eliminate as much as you can," says Fulvio. "When you have very few ingredients on a plate, there is nowhere to hide."
Afternoons are set aside for pastry-making and wine tasting. Learning the art of cannoli and cassata – colourful, sweet and filled with generous portions of ricotta cheese. Then sample wine at the Planeta estate, where birdsong fills the air and vineyards stretch as far as the eye can see, before returning to the hotel with a personalised bottle. 
Making connections with local producers feeds into Fulvio's philosophy of sharing. On a visit to the mill you'll be introduced to the people making olive oil, and learn how it's produced. Create your own blend, then dip bruschetta into it as a feast for lunch. 
Reward yourself with a relaxing afternoon massage, rich in the same oil you've been immersed in during the day. Finally, finish your trip with a night to remember, as Fulvio works his culinary magic with a private, beachfront meal.
Truffle & Friends in Tuscany
Autumn is a special time in Tuscany. The tourist crowds are gone, leaving behind a landscape gleaming in russet and gold. This is the season when some of the region's culinary treasures are revealed too – including one of the most revered ingredients in the world, the truffle.
The region has a special place in Fulvio's heart. It was here that he first gained his reputation for exemplary food, using Tuscany's bounty for his dishes at acclaimed restaurant Gambero Rosso. With Fulvio as your guide and the truffle taking centre stage, let Hotel Savoy be your home from home on this gastronomic journey of discovery. 
Travel between rolling countryside and history-layered cities as you learn more about the local cuisine and culture. In Florence, continue the multi-sensory journey with a fragrant exploration of one of the city's most elegant perfume houses, founded by Lorenzo Villoresi over 30 years ago.
Beyond the city, Tuscany's blanketed forests beckon. With the help of our truffle concierge, Giulio, you'll spend the morning searching for precious treasure before enjoying a lunch created by Giulio and Fulvio in the hills outside Florence.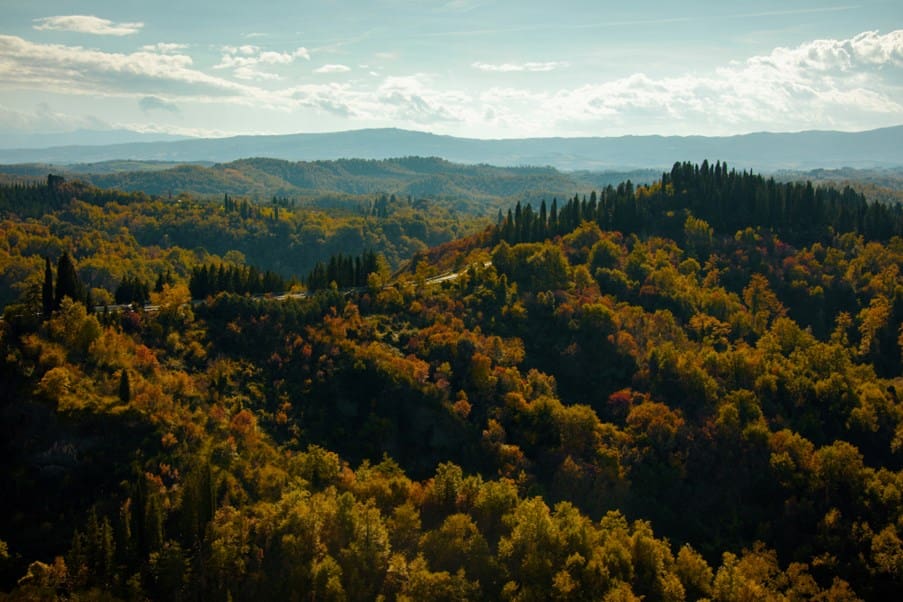 Another highlight is a dinner of Tuscan dishes in the renaissance splendour of Palazzo Gondi, cooked by Fulvio himself. There's no doubt it will be a meal to remember, informed by his exacting standards. "For simple cooking, you need wonderful premium products, absolute technique and perfect timing," he says.
Further adventures in Palermo and Puglia
Bursting with ideas, Fulvio's culinary retreats continue with an exploration of Sicily's cosmopolitan history of food and wine from Villa Igiea, and a deep dive into the riches of olive oil in Puglia, fresh from the olive groves of Masseria Torre Maizza.

Feeling inspired? Get in touch by emailing RFInsider@roccofortehotels.com find out more and be the first to register your interest for Fulvio's latest tours. Discover more about Italy's intriguing food history, enlivened by Fulvio's passion for cooking, and contact us to register your interest in his future culinary retreats.
Fulvio Pierangelini, Rocco Forte Hotels' Creative Director of Food, famously earned two Michelin stars at Gambero Rosso for thirty years, elevating a modest Italian port restaurant to widespread acclaim. His passion for simple ingredients, cooked well, has placed him at the forefront of the restaurant industry.