Irene Forte Spas: A New Concept Launching in Italy
With glorious plunge pools and nurturing treatments, four of our Italian spas - in Sicily, Puglia and Rome - now come with a new moniker: Irene Forte Spas. Each space offers the perfect retreat to suit your mood; escape the bustle of Palermo at Villa Igiea or relax by the gently lapping waves of Sicily's south coast at Verdura Resort. Breathe in the scent of Puglia's olive groves on a retreat at Masseria Torre Maizza or spend an invigorating few days at Hotel de la Ville, hidden among Rome's cobbled streets, close to the buzzy Spanish Steps.
Home-grown ingredients: Stroll through our organic farm in Sicily
The colourful Mediterranean diet and its zesty citrus fruits have long been a source of health benefits. Nestled on Italy's Sicilian coastline, Verdura is an oasis of wellbeing, escapism and indulgence set against a backdrop of charming villages, ancient Greek temples and Roman ruins. It is here amid 230 hectares of winding olive trees, orange groves and wild flora, that Verdura's gardeners lovingly tend an extraordinary garden. Laden with organic fruits, herbs and vegetables, fresh produce is carefully picked to create the purest of ingredients for Irene Forte Skincare. 
Irene embodies her family's entrepreneurial spirit and commitment to ethical and sustainable practices. Her skincare company's devotion to nature and the environment means that she is personally committed to ensuring her products and processes are as eco-friendly as possible. The sensual scents and nutritional benefits of Sicilian lemons, olive oil and white wine are incorporated into the natural, nourishing treatments at each spa. Irene's insistence on plant-based sources means all ingredients are certified vegan. Under the guidance of Scientific Director Dr Francesca Ferri, a pioneer in the medical use of plant extracts to treat skin conditions, Irene Forte Skincare is backed by 35 years of research and development.
Unwind in a sanctuary of calm: Rejuvenating face and body treatments
Throughout our spas the light scent of orange blossom and the peel of bells signal the start of your wellness journey. With each chime, the mind wanders from the stresses of everyday life as the focus intensifies on the immediate sensations around you: cool cream on your skin, silky clay enveloping your body or the relaxing aroma of essential oils.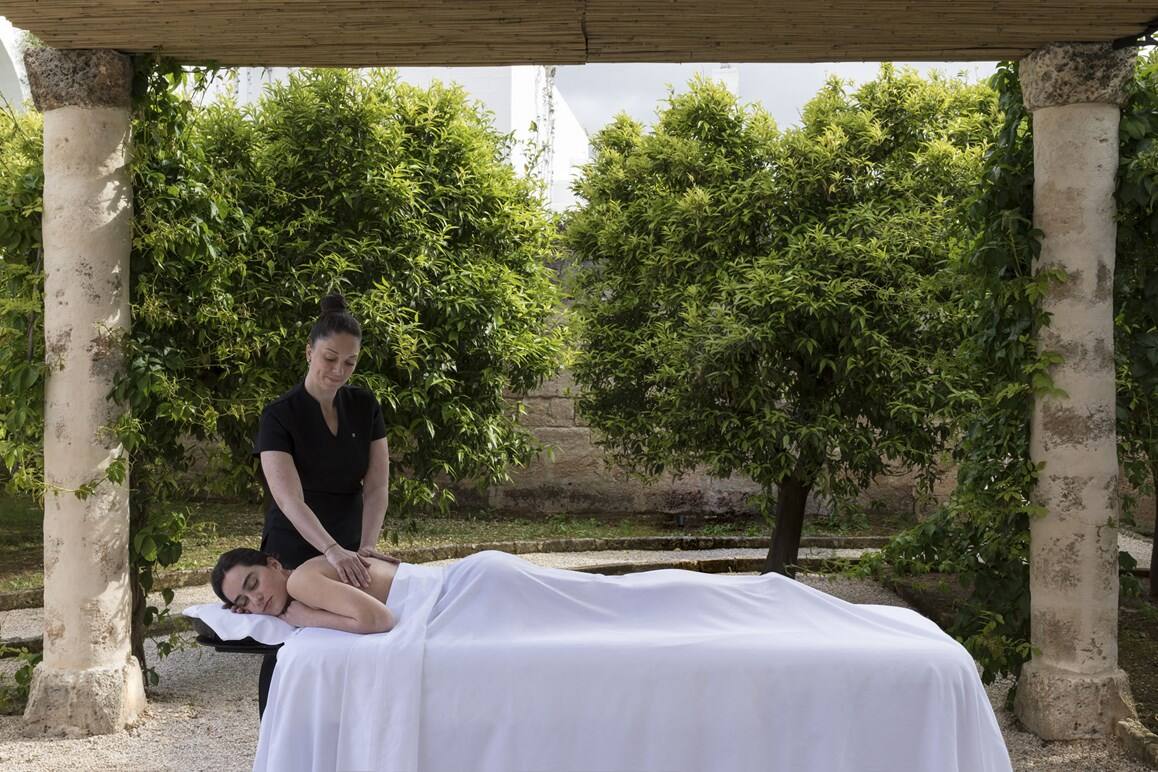 During our Etna age-defying facial, a massage with hot and cold volcanic stones from Mount Etna will leave your skin feeling toned and revitalised, while our signature deep-tissue Forte facial enhances collagen production. Prefer a full body treatment? During our Sicilian earth and sea toning treatment, local Trapani sea salt forms a gentle scrub before a nutrient-rich algae and clay mud wrap replenishes the skin. Our Mediterranean nourishing treatment meanwhile uses Sicilian oils and body cream made with Sicilian white wine to deeply nourish.
Supporting specific health issues: Expert guidance and support
Working with experts, our personalised wellness programmes target long-term health issues. Opt for an indulgent full-body treatment, for example, and enjoy an apricot scrub, sculpting blackcurrant oil and white wine cream to help reduce fluid build up, cellulite and pain. If you have, or are recovering from cancer, our specially designed restorative facial and nurturing massage are provided by the safe hands of a therapist trained by The Amethyst Trust, accredited by the Standards Authority for Touch in Cancer Care (SATCC).
Our environmental and social standards: B Corp and Positive Luxury approved skincare
Sustainability is at the heart of all of our spas.  Working with the Sustainable Spa Association to help reduce our carbon footprint, we use organic products and favour local artisans – look out for handmade Sicilian ceramics and Danié Made in Sicily's vibrant straw bags, as well as ethically-produced yoga outfits from Back Label at our spas. We're proud to say that our skincare products have also been B Corp certified and endorsed by Positive Luxury – essentially giving us a green light for our green efforts.


Discover more about our spa products grown in the grounds of Verdura Resort or get in touch with our spa teams at Villa Igiea in Palermo, Verdura Resort in Sicily, Masseria Torre Maizza in Puglia or Hotel de la Ville in Rome.