Rocco Forte Hotels Design updates: New Products, Interiors, Art and more
Hotel de la Ville has emerged from an ambitious transformation project in 2021.
The eighteenth-century palazzo on Rome's Spanish Steps is a vibrant, modern-day icon, with a Sicilian-inspired spa, enchanting courtyard, effervescent rooftop bar, street-side bistro and exquisite food from Fulvio Pierangelini. Under the direction of designer Olga Polizzi, our team is always striving to seek out exciting furnishings, materials, antiques and lighting.
Vintage mirror wall
A wall of vintage mirrors, known as'miroirs sorcières', have been hung in the entrance lobby and create a wonderful backdrop for family photos. Instagrammers are also enjoying capturing photos of their reflections in the round designs. Mirrors of all shapes and sizes clustered together never fail to create an interesting statement in a room. 
Campari chair
Keep an eye out for our buzzing neon red chair designed by Campari, the epitome of the Italian aperitif. Named Regia, the chair has been placed at the hotel's Julep Bar, giving the area a funky and modern touch. You will also find bright Campari cushions dotted around the Cielo Terrace to add a playful element to our rooftop.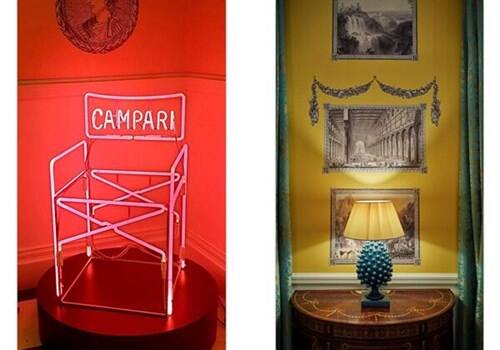 Verdant lift design
In celebration of the great outdoors, which many of us have enjoyed exploring this past year, we have redecorated our lifts with a sage-coloured paisley, green foliage. Striking studded leather patterns have also been printed all over the glass within the lifts, creating a modern tapestry that offers passengers a feast for every sense.
Visit us at Hotel de la Ville in Rome to explore even more exquisite design in the Eternal City, including striking Baroque architecture, ancient landmarks and extraordinary interiors in the city's palazzos and churches. For more information get in touch with our concierge team at reception.delaville@roccofortehotels.com or call +39 06 977 931.