Unforgettable Outdoor Experiences in Puglia
Puglia is home to some of southern Italy's most beautiful beaches, distinctive architecture and handsome towns.
Explore the coast by boat, swim in pristine waters, marvel at the fairytale-like trulli (cone-roofed houses) in the small town of Alberobello, and explore the area's natural heritage. Our concierge is always on hand to craft an authentic and unforgettable experience personalised to your every wish.
Puglia by boat
Soak up Puglia's sun, sea and postcard-perfect scenery from a fresh perspective and admire the region's picturesque towns from the decks of a chartered luxury yacht. This laid-back day trip explores the azure waters of the stunning Adriatic coast. You'll be in charge of marking out your preferred itinerary, with the option of visiting the region's charming coastal towns such as Polignano a Mare, Otranto and Monopoli. End a memorable day at sea by watching the sunset while sipping a glass of freshly-popped champagne.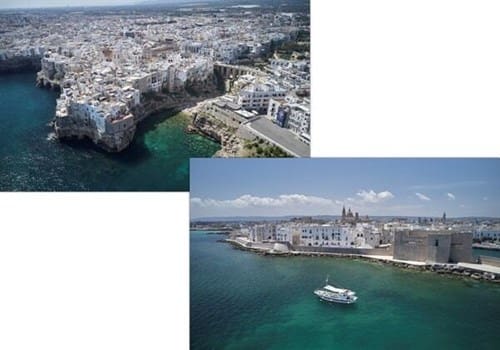 Discover Puglia's iconic architecture
Puglia's striking landscapes are characterised by its iconic white stone architecture. Enjoy a fascinating day trip touring Masseria Torre Maizza's neighbouring towns, starting at the UNESCO World Heritage Site of Alberobello, where protected clusters of ancient trulli are fringed by lush foliage. Next, move on to the towns of Noci and Gioia del Colle and discover ancient stone houses, historic churches and abbeys showcasing a wide variety of Puglian stone architecture. Finally, visit Matera, a spectacular hilltop settlement of stone-walled structures and houses carved directly into the hillside.
Swim in pristine waters
Puglia has some of Italy's most beautiful beaches, boasting over 800 kilometres of coastline. On the west coast of Salento, north of Gallipolli, lies the pebble beach of Porto Selvaggio which translates as 'Wild Port' and is accessed by walking through a lush green forest. Lapped by pristine waters, this is a protected marine area surrounded by cliffs and covered in pine trees, olive trees and eucalyptus trees. The whitewashed town of Polignano a Mare also has plenty of splendid beaches, the main one being Lama Monachile, also referred to as Cala Porto. It's named after the Roman bridge that looms over its inland end and it is surrounded by two rocky cliffs.
Explore Grotte di Castellana
One of Italy's most important natural heritage sites, the Grotte di Castellana is a 90 million year old cave system located at the entrance of the Itria Valley. These limestone caves were discovered in the early twentieth century and are the country's longest natural subterranean network of passages. You'll be taken along a distance of 3km to find stunning stalactite and stalagmite formations, as well as fossils and canyons. One of the highlights of the tour is the Grotta Bianca (White Grotto), the brightest in the world thanks to the alabaster walls. And if you're feeling really adventurous, there are also night tours in which torch-wielding groups are taken in among the bats.
Puglia's beautiful beaches, fascinating caves and iconic architecture are all within easy reach of Masseria Torre Maizza. Back at the hotel, there is a series of outdoor evening activities and music and art events set amid the backdrop of the whitewashed walls of the masseria, its century-old olive trees and the vivid bougainvillaea. For more information, get in touch with our concierge at reservations.torremaizza@roccofortehotels.com or call +39 06 32 888 890.