Winter Joys in the Capital of Europe
Belgium's cultural heart, Brussels comes alive in winter in a cascade of twinkling lights, snow-dusted Christmas markets and spiced glühwein or mulled wine. Ring in the joys of the season this season while staying at Hotel Amigo, set in the heart of the city next to the elegant Grand-Place.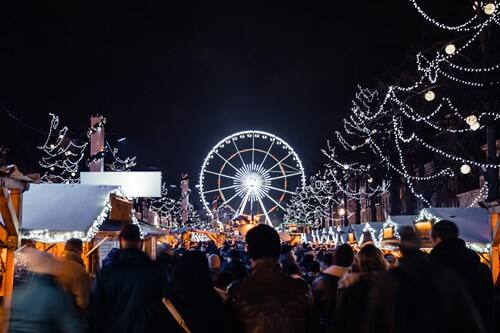 Over five weeks of winter, the fun-filled and atmospheric Christmas Market or 'Les Plaisirs d'Hiver' celebrates the joys of the season with music, waffles and a very Belgian gusto. The cobbled streets and charming squares spring to life with Winter Wonders, a 2-km stretch of market chalets, fun fairs and aroma-filled food stands. Wrap up warm and join in the merriment on and around Grand-Place, Bourse, Place Sainte-Catherine and Marché aux Poissons, all within close walking distance of Hotel Amigo. 
For those with a sweet tooth, the hotel can arrange a workshop with chocolate master, Laurent Gerbaud, one of the most celebrated names in Belgium.  Over two hours the Maître Chocolatier, who has just opened a boutique called 'Amigo' next to our hotel, will impart some of the secrets of his craft, offer a hands-on demonstration and delve into the origins of ingredients. A chocolate-themed gift will be waiting back in your hotel room to continue the guilty pleasure.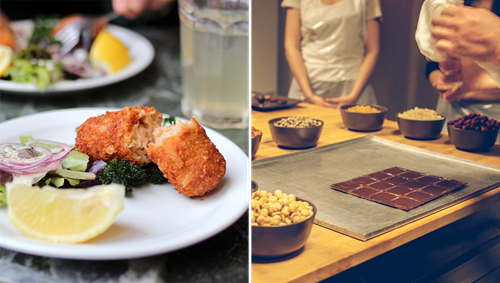 For wintry plates of the freshest razor clams and homemade shrimp croquettes with a glass of crisp white wine, seek out the blue awning (and devoted crowd) of De Nordzee on cobbled Place St Catherine. Revered by locals for its North Sea bounty, this high-energy dining spot has zing and atmosphere in spades - alongside the best tuna steak in the country. seek out the best (and award-winning) shrimp croquettes in the city at the bustling Fernand Obb, be a true local and pair them with "ouille ouille'' spicy sauce for a true Belgian food experience. Another winter spark is the home-smoked Scottish salmon served with its pistolet - all served among a colourful cast of characters who flock to this beloved dining spot, with its contemporary twist on Brussels' street food. 
For a unique winter music experience, attend the River Jazz Festival which swims through the streets on a tidal wave of music and bonhomie. Held every January, this celebration of the bond between jazz music and the city attracts musicians from far and wide. Enjoy premieres, children's concerts, a photographic exhibition and the joyful Itinerant River Jazz Night. In the words of the late Jazz musician and Brussels native, Toots Thielemans. "We've got that thing called swing".
Make the festive season replete with a stay cocooned in the graceful warmth of Hotel Amigo.  On Christmas morning, share some festive deliciousness with the Pranzo Di Natale (Christmas Brunch) at  Ristorante BoCConi. A traditional feast of seasonal dishes in the spirit of 'abbondanza' (abundance), this is a vibrant yet refined journey into the heart of Italian soul food over a series of courses including primi and secondi piatti and traditional desserts.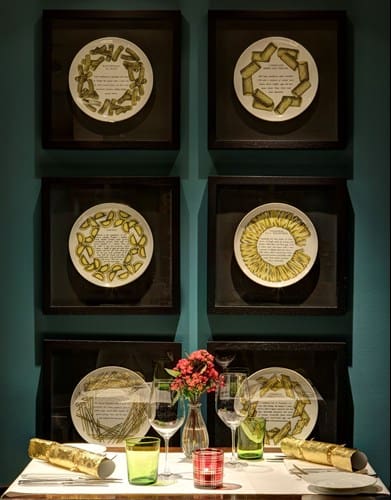 Another gastronomic highlight at the hotel this winter is an exclusive workshop with Ristorante BoCConi chef, Igor Rosi.  Passionate about Italian cuisine, Chef Rosi is as inspired by his Tuscan nonna's recipes as he is gourmet dishes. The session offers an exclusive, private moment with one of the city's leading chefs as he demonstrates the art of creating magic from simplicity and locally sourced produce, from spaghetti al pomodoro, bursting with flavours, to vitello tonnato, a Piedmontese classic and festive favourite from Venice to Naples. Finish the day with a private candlelit dinner surrounded by art and character in our unique Tintin Suite. Enjoy a four-course dinner with a memorable view over the Grand-Place and feel the magic of the season unfold.
Spend a magical week or weekend in Brussels this winter at Hotel Amigo by emailing our reservations team on reservations.amigo@roccofortehotels.com