Five Must-Visit Restaurants in Rome
It's official, Italian is the most popular cuisine in the world. As confirmed by a comprehensive study across 24 countries, Italian classics of fresh pizza and pasta, combined with umami seafood or tender meats, take the crown.
When dinner is served with views overlooking the rooftops of the Eternal City, there is no better place to go for a taste of Italy. Before making a reservation, read our guide to the best restaurants in Rome, featuring inventive menus, versatile dishes and stunning interior design.
Il Convivio Troiani
Il Convivio Troiani, Vicolo dei Soldati 31, 00186 Rome
Established in 1990 by three brothers, Il Convivio Troiani holds one Michelin star and a solid reputation in the world of Roman fine dining. The restaurant's widely-spaced tables sit within three rooms and the ancient courtyard of a building rich in history, surrounded by a tower which was once used as quarters for soldiers. Choose from their a la carte menu, or opt for a five, seven or nine-course set menu featuring dishes such as duck-stuffed gnocchi and pan-seared octopus.
Le Jardin de Russie
Le Jardin de Russie, Hotel de Russie, Via del Babuino 9, 00187 Rome
A botanical oasis in the middle of the city, Le Jardin de Russie offers a reliable escape from the lively Roman streets for both locals and visitors who want to enjoy delicious Italian dishes in a stunning setting. Verdant, blooming plants and trees carpet the terrace and crawl up the walls of Hotel de Russie, and even if you choose to sit inside the restaurant, you won't be without greenery as the wallpaper features flowering citrus plants and flying parrots. The restaurant offers the unique ability to dine al fresco even in the middle of winter, as when temperatures drop a temporary conservatory is constructed in the garden, bringing the outdoors in.
Trattoria Da Enzo al 29
Trattoria Da Enzo al 29, Via dei Vascellari 29, 00153 Rome
Hidden in cobblestone streets, Da Enzo al 29 is the perfect choice for those seeking a simple, understated yet exceptional dinner in rustic Roman environs. The small restaurant offers the very best of Italian home cooking, and you'll often find yourself dining among locals in a space devoted to maintaining the true spirit of a traditional trattoria. The menu is ever-changing, depending on the season, but expect to see some of Italy's most classic dishes featured.
Da Sistina
Da Sistina, Hotel de la Ville, Via Sistina 69, 00187 Rome
Da Sistina is all about adding a contemporary touch to classic Italian dishes in an elegantly designed space. Fulvio Pierangelini, the developer of Da Sistina's menu, takes traditional dishes such as ravioli alla carbonara and sea bass with artichokes and reworks them in an innovative manner, marrying old-world Italian flavours with new-world techniques. The decor equally favours strong Italian design with Renaissance-inspired busts and statues and jewel-toned furniture against elegantly-designed wallpapers and checkerboard floors.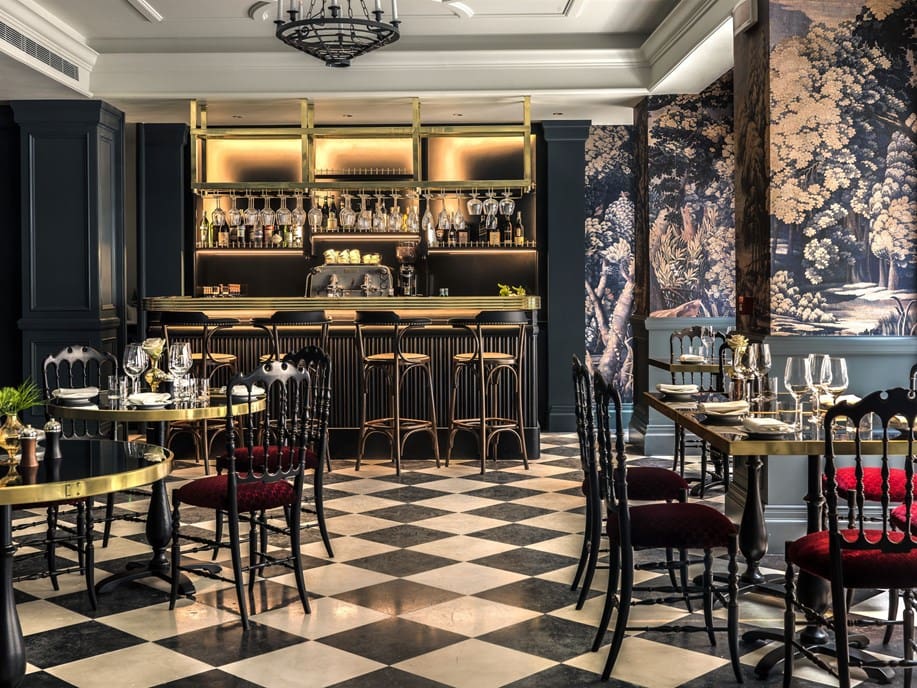 Osteria Fernanda
Osteria Fernanda, Via Crescenzo del Monte 19, 00153 Rome
One for the wine lovers out there, Osteria Fernanda offers one of the city's most enviable wine selections, paired with beautifully presented food. The talented in-house sommelier has curated a dynamic and diverse list of over 300 wines from vineyards around the world while the accomplished chef has developed a menu featuring wonderful dishes from oxtail cappelletti, a type of stuffed pasta, and tender lamb served with crispy Jerusalem artichokes.
For more information or to reserve a table at Rome's finest restaurants, speak to our concierges at Hotel de Russie and Hotel de la Ville.