Behind the scenes of 2022's Chelsea Flower Show
The Nation's Celebration of All Things Bright and Beautiful Returns
The RHS Chelsea Flower Show is back in force, and promises to be even more wild and wonderful than ever when it opens in the grounds of the Royal Hospital Chelsea in Chelsea in London from Tuesday 24th to Saturday 28th May 2022. When the show launched in 1862 in Kensington, it was held in a garden owned by the Royal Horticultural Society (RHS) and titled the RHS Great Spring Show. Renamed the Chelsea Flower Show in 1913, its home has been at the Royal Hospital Chelsea ever since. 
2022 Theme: 'Rewilding Britain'
For 2022, participating garden designers have been invited to create gardens with a focus on the environment.  Show Manager Gemma Lake explains, "The designers have embraced the wild and will use native species rarely seen at RHS Chelsea to show how green spaces can be transformed into wildlife-friendly havens. Think hawthorn, weeping willow, nettles, poppies and buttercups."
Beavers as Bio-Engineers
First-time RHS Chelsea designers Lulu Urquhart and Adam Hunt from Urquhart & Hunt will be using native plants in their garden design for the show: A Rewilding Britain Landscape. Depicting a rewilded landscape in southwestern England, it will reflect on the significance of beavers. Lulu explains, "Beavers are a native species, hunted to extinction in Britain 400 years ago. They affect the land and waters to such a degree that they are heralded as ecosystem engineers. Their dams create nature-rich, flood-reducing waterways, dramatically slowing down and cleaning the run off of waters from the land and soils, benefitting a range of flora and fauna."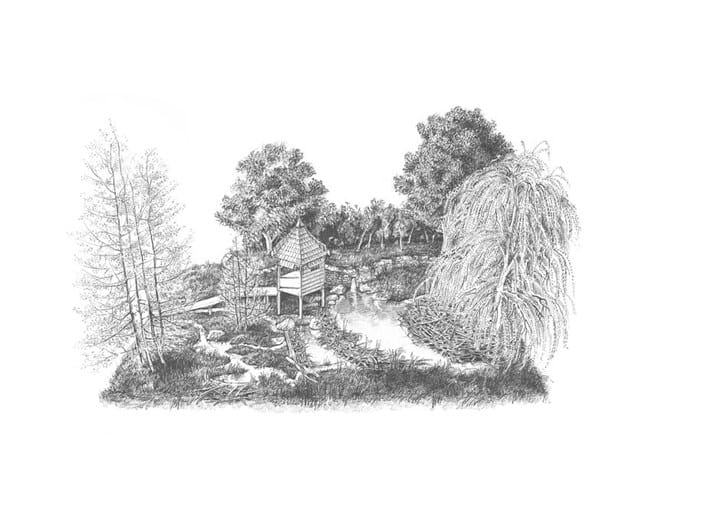 A Foraging Garden
Another highlight this year is a foraging garden by Howard Miller Design for Alder Hey Children's hospital, designed to encourage the local community to engage with nature.  The naturally colourful garden will be filled with crab apple trees, elderflower and wild garlic and feature a white, cream and blush pink colour scheme. Howard explains that, "Visitors will enter the garden through rampant, blossoming hedgerows before being transported to a world packed full of edible wild goodies."
Getting Back to Nature
This year's show is less about manicured beauty and more about the benefits of nature. The Core Arts Front Garden Revolution green space aims to encourage people to use their front garden in new ways. Designer Andy Smith-Williams, says, "The garden will inspire people to build connections between gardening and mental wellbeing, breaking down boundaries to create communal gardens for socialising along streetscapes that connect you to your community."
Core Arts is an education centre which promotes positive mental health. One of its projects, Core Landscapes, transforms underused land in deprived urban areas into community gardens. Core Landscapes' Project Director, Nemone Mercer, explains, "Gardens have the ability to relax people, often instantly. I see this every day with our gardens and Andy's garden reflects this idea beautifully. Stopping to observe nature and sharing the pleasure with others is life-affirming."
Unique Displays to Look Forward to
Other highlights this year include John Everiss' RAF Benevolent Fund garden, which includes a four-metre, five-tonne statue of a Battle of Britain pilot. Sarah Eberle meanwhile has teamed up with a sustainable timber panel manufacturer. The Medite Smartply Building the Future garden features a six-metre structure built from carbon negative materials.
Ultimately, this year's festival aims to show that while gardens are always meant to be beautiful, they can be designed to support the natural environment too.  


Discover the magic of nature when you stay near Hyde Park at
Brown's Hotel in London.
You may also like
When considering the wonderful, whimsical world of surrealist artist René Magritte, Brussels lies at the start. Belgium's capital is where he won his first solo exhibition, where a chance meeting led him to the love of his life, and where he spent the majority of his prolific career. The two are irrevocably intertwined. 
To help you get into the holiday spirit, we've rounded up a few of the supper spots, bars and shopping districts attracting a younger crowd in London, Rome and Munich. 
As more and more employees embrace 'bleisure' trips, what are the secrets to successful and happy breaks?