Irene Forte's Tips for Radiant Skin and a Mood-boosting Winter Diet
With a cold snap in the air, it's time to refresh our winter wellness regimes. Irene Forte is a Board Member of the Global Wellness Summit and has long been a champion of a holistic approach to beauty. Her work with Rocco Forte Spas inspired her own beauty line, Irene Forte Skincare, characterised by 'Natural Science' shaped by 35 years of skincare research and development. Scientific Director Dr. Francesca Ferri is a pioneer in the medical use of plant extracts to treat skin conditions, and together they have indeed introduced novel ingredients in products which have shown glowing results.
Irene Forte and her company are part of a much wider movement of people and organisations, nature and the environment. As a strong believer in the health benefits of the Mediterranean diet, Irene's approach to skincare is about revitalising one's skin by harmonising all aspects of your life. From mood-boosting foods to the best supplements for radiant skin and a stronger immune system, Irene helps us plan a nourishing winter beauty regime.
1. Which science-backed ingredients should we look out for in your products?

We use Myoxinol™, extracted from Hibiscus Seeds, which is a major new approach to reverse signs of skin ageing and acts in a similar way to injectables in reducing deep forehead lines. You can find this ingredient in our Hibiscus Serum, Prickly Pear Face Cream and Hibiscus Night Cream.
We love Prickly Pear Polysaccharides, which are produced from prickly pear leaves harvested in Sicily. The ingredients in our Prickly Pear Face Cream and Prickly Pear Body Cream act like Hyaluronic Acid to hydrate the skin, and also help to reduce skin inflammation and redness.
We've also recently launched our Triple Level Hyaluronic Serum. This next generation moisturising serum contains Ultra-Low Molecular Weight Hyaluronic Acid, which is new on the market and proven to penetrate faster and last longer than other forms of Hyaluronic Acid.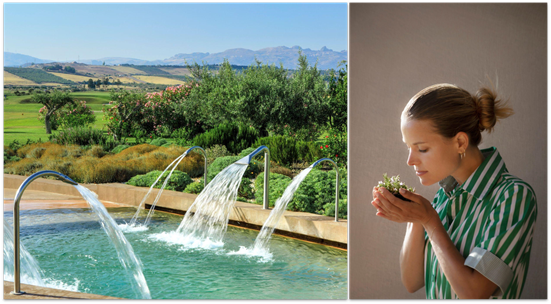 2. Can you talk us through some of the best supplements or ingredients to take for good skin?
Before starting to take any supplements I would always get a blood test to understand whether you have any deficiencies. Troublesome skin conditions are often linked with deficiencies of certain nutrients, as well as other imbalances in the body. The ingredients I would look out for in supplements for the skin are very similar to ingredients I recommend to be applied topically with skincare: multi-vitamins (e.g. Vitamin D, E and C) and an ingredient like collagen is much better as a supplement because it's impossible for it to penetrate the top layer of skin when applied topically. 
I really love and recommend Equi's skin formulas; they have the Beauty Formula, Glow Edition and Beauty Oil Edition. These formulas have a mix of important high quality ingredients for the skin, and are backed by science.
3. You recommend the Healthy Lifestyle programme at Villa Igiea and Verdura Resort for spa skin treatments. Can you tell us what kind of treatments this programme includes, and what the benefits are?
Our philosophy for these programmes is really about creating an individual experience for each and every guest. We have an array of face and body treatments and therapies to choose from, designed to rejuvenate the skin, achieve spiritual, mental and physical balance.
My favourite facial treatment is the Irene Forte Skincare Etna Age-Defying Facial. Using hot and cold volcanic stones from Mount Etna, and our Forte signature triple facial massage, this facial stimulates circulation, oxygen and nutrient flow to the skin, enhancing natural collagen production. It reveals a fresher, firmer and glowing complexion.
My favourite body treatments are with Endosphères. Endosphères is a non-invasive treatment for body contouring, muscle toning, lymphatic drainage, cellulite reduction and pain relief. We integrate Irene Forte body products with this machine to achieve all sorts of great body results.
4. You love the Mediterranean diet, which means no processed foods and plenty of vegetables, fruits, whole grain. What mood-boosting foods would you recommend in particular?
Yes, I'm a strong believer in the Mediterranean Diet. If your diet consists of industrial food - processed, refined and rich in saturated fats - you are turning away from the fundamentals of this way of eating, and 'mood-boosting' foods. 
In terms of 'mood-boosting' foods, I would recommend lots of vegetables and fruits. I also like to promote healthy fats, such as olive oil, nuts and seeds. I would also recommend fatty fish — such as mackerel, herring, sardines, albacore tuna, salmon and lake trout — rich in omega-3 fatty acids, a type of polyunsaturated fat that can reduce inflammation in the body. Last but not least, I would also opt for whole grains, such as bulgur and farro.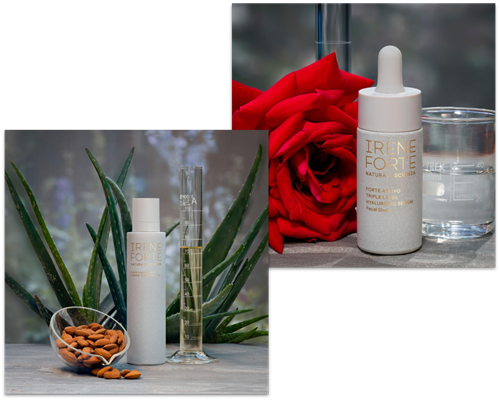 5. Do you have some tips for protecting your skin from the winter sun?
During the winter, normally healthy feeling skin can start to feel dehydrated. It's generally much more dehydrated than the summer months, so you need to change up your routine a little bit. I'm a firm believer in layering up. You want to cleanse your skin with a cream-based, non-stripping or drying cleanser, such as my Almond Cleansing Milk (rich in Omegas 3, 6 & 9 amongst other things). You also want a moisture-attracting serum; serums with different molecular-weights of Hyaluronic Acid are great (we have our Hibiscus Serum and Triple Level Hyaluronic Serum). 
Don't forget to then add eye cream; the skin here is thinner and thus more susceptible to colder climates, so it needs to be kept hydrated and protected. Finish with a cream or an oil, which are designed to create a barrier on the skin and prevent moisture loss. Ceramides are a critical element of the natural moisture barrier, and we produce fewer and fewer as we get older. As the cold sets in, it's always a good idea to include ceramides in your skincare routine. We have them in our Hibiscus Night Cream (and our Hibiscus Serum). Finish with an SPF! I use my SPF50, which is paraben, colorant and silicone-free, and full of omega-rich oils which are perfect for the winter months.
Let us take you on a transformative experience with our wellness programmes, designed to help enrich spiritual, physical and mental health.