PAPILLOTES OF SEA BREAM WITH CITRUS FRUIT BY FULVIO PIERANGELINI
"This simple recipe featuring papillotes can be prepared before the meal and stored for a few hours in the fridge. Just synchronise the times and in a few minutes the dish will be on your table! This way you can spend more time with your guests or family and less time in the kitchen. To serve, place the warm papillotes on a platter or on each individual plate and bring to the table."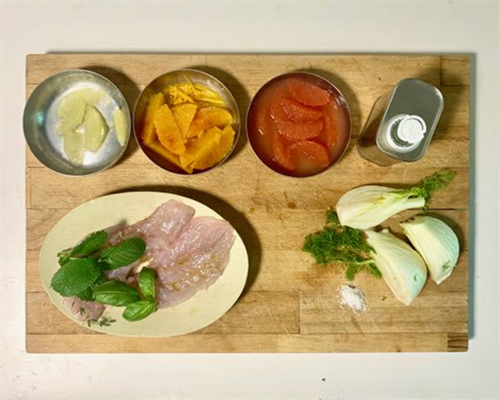 Ingredients (for 4 people):
1.6 kg fresh sea bream        
1 untreated lemon
1 untreated orange  
1 grapefruit
few leaves of basil, mint, thyme, parsley   
salt, pepper   
extra-virgin olive oil            
1 blanched fennel bulb cut into thin, strips
baking paper
Method
1)     Scale and gut the fish and cut it into fillets.
2)     Remove the orange peel with a potato peeler and carefully eliminate the white, bitter part. Cut it into very thin strips.
3)     Peel citrus fruits "alive" and obtain the wedges, taking care not to leave any white membrane; squeeze the juice and reduce it to half over low heat.
4)     On a squared piece of baking paper, lay the fennel strips, the reduced juice, the herbs and the raw fish fillet with some orange peel on top, the mixed citrus wedges, a drizzle of oil, salt and pepper.
5)     Wrap the baking paper in the shape of a bundle, then close it with a cooking string.
6)     Bake at 180 degrees for 6 minutes.