Hotels that reflect the places they're in, while evincing a singular style: they're what Rocco Forte Hotel's Design Director Olga Polizzi has been creating since 1997—often with the help of a roster of high-profile talents, ranging from bespoke wallpaper makers to fashion-house mavens.

When a hotel works—when the experience of a stay, a dinner, or even just a walk through a good lobby has something ineffably magical about it—it's because a whole host of components have come together the way they should. There's service, of course; there's atmosphere; there are the guests themselves, and what kind of vibe they bring to the experience. But more than anything, the magic comes down to exceptional design; not least because none of the other elements will work if the design itself doesn't take them into consideration. 
Rocco Forte Hotels are extolled for lots of things, but gorgeous design is invariably top of the list. From the sleek, contemporary understatement of Rome's Hotel de Russie, to the brazen colours and retro-chic shapes of Villa Kennedy in Frankfurt, to Verdura Resort, whose low-slung buildings and elemental, spare spaces honour the essence of Sicily: the hotels vary hugely one from the other, but they share an important commonality: each makes a singular design statement. 
That kind of success requires genuine vision—something Olga Polizzi has been bringing to the company since she joined as Design Director in 1997. Polizzi understands palette and proportion, antiques provenance and architectural history. But also, thanks to a lifetime of exposure to luxury hospitality, she understands operations (crucial, when you think about it—or when you see a kitchen located a 20-minute walk away from a dining terrace, or double basins squeezed into a bathroom, leaving no space at all for one's things). Likewise, she 'gets' guest behaviour and proclivities—how people want to feel, and who they want to be, in a hotel.

Polizzi's own designs are visible across the breadth of the Rocco Forte portfolio. Signature suites, in particular, are where her penchant for ebullient colour and a knack for comfort that doesn't sacrifice elegant shapes and materials come to fruition. The hotel's spaces, both the ones she herself designs and those she enlists other talents to work on, are "more decorated" than they have been in past, she notes: witness Charlie's at Browns, the latest permutation of the London flagship's fine dining restaurant. Polizzi herself remade the space, imbuing it with both whimsy and character while respecting its bones, in particular the elegant (and historic) wood-panelled walls. "It's really the most difficult space to do in the entire hotel, because of that panelling," she says. "I thought, how can I somehow jolly this up? I'd considered painting the wood itself, but then decided to put wallpaper above it, and had [bespoke wallpaper and textile designer] Adam Ellis create one for us." The design is a fantasy of tropical flora and lush palms, covering the upper walls and beams up to the room's original ornate plaster ceilings—both an aesthetic delight and a perfectly balanced foil to the plain panelling, rich parquet floor and tables clad simply in white linen.

Part of design direction—a big part of it—is, of course, identifying and selecting the other 'voices' that will set the tone of a hotel. For both of Rocco Forte's Rome hotels, the De Russie and the De La Ville, Polizzi collaborated with Tommaso Ziffer. "Tommaso is a real thinking designer," she says admiringly of the Rome-based interiors architect, who prior to designing the De Russie more than 20 years ago had never done a hotel project. This was a plus, to Polizzi's mind: "I very much wanted to work with someone who came from that [more residential-retail background], because I wanted the De Russie to feel like a sort of grand house"—a style, it's worth nothing, that went boldly counter to the design-hotel fashion of the day.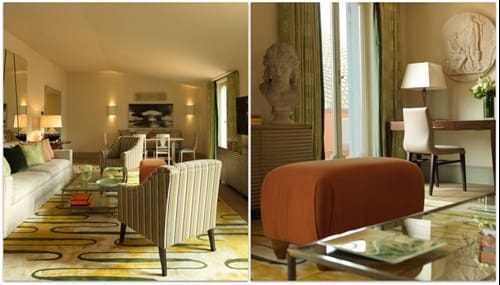 "Tommaso never just puts something together and says, 'Okay, this is it, we're done,'" Polizzi continues. "He'll think about it, and think about it again, and tweak until he thinks it's perfect. The other great thing about him is that he really gets space. He knows it's no use putting a lot of pretty things into a room if the proportions are off, or the doors aren't the right height. He helped us a great deal with that at the De Russie—ceiling heights, doors, windows. And Tommaso does very good bathrooms. I love his bathrooms."
For the De La Ville, "We had to think about how to make it different from every other hotel in Rome"—an inventory that had clearly exploded in number in the 20-some years since the De Russie's opening. The result is a world away from the modern understatement of the De Russie: taking inspiration from the Grand Tour, Ziffer's designs are replete with 18th century classical references, wrought in bold primary colours and rich earth tones. "You know, to have a concept and go with makes the whole process go more smoothly; it really makes it easier. Tommaso comes up with lovely ideas, and I respect him and what he does, so we went with it."
The roster of talent Polizzi has engaged runs the gamut of excellence, but there's a method to her choices. Inge Moore, the London-based creative director of Muza Lab, has "a very international style, and reach," notes Polizzi—which allowed the designer to ably work in both Brown's (where she reimagined the Donovan Bar) and her current project—the Westbund in Shanghai, scheduled to open in the middle of next year, which will occupy several floors of an ultra-sleek skyscraper: all marble, glass, statement lighting and slick lines. "That one confounded me a little bit; it's very big, and bold, and needed that international vision," Polizzi says. 
Her collaborative relationship with Martin Brudnizki—who created the interiors of Villa Kennedy in Frankfurt (and who is a superstar of the last few years, with hotels and restaurants that are some of London's most admired to his name)—dates back to that designer's tenure at David Collins Studio. "I love Martin. He has done brilliantly, and he does absolutely everything. He's contemporary, and designs very clean spaces; though Villa Kennedy has lots of colour. It was great fun working with him on that."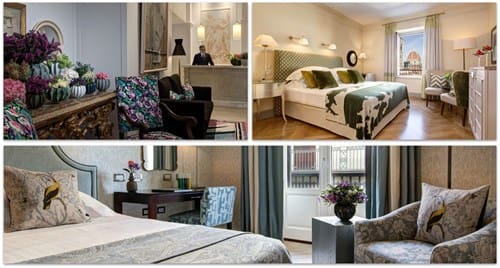 In Florence, at the Savoy, Polizzi invited a quintessential Florentine powerhouse to contribute her family's own, utterly unmistakeable designs and colours in the lobby: Laudomia Pucci, Vice President and Image Director of the legendary fashion-accessories house founded by her father. "What was so good about working with Laudomia was her meticulousness. It's her lovely fabrics on the chairs, on the cushions, not just in the lobby but all along the terrace of Irene," the hotel's restaurant, "and one of her father's carpet [designs] in the hall, which she recoloured. She showed exceptional care for the colours, how they mixed and worked in the space.
"What my team did was sort of create the architectural background: the white reception desk, the white sculptural wall behind, the lovely putti. The marble floors, which really follow those in the rest of the hotel, are a light cream. So those [Pucci] colours"—fuchsia, electric blue, black—"really pop."
A successful hotel design has to dialogue with both the place it's in and the people who stay in it. Sometimes—as someone who is as seasoned as Polizzi knows—it takes another eye to master those 'conversations'. Pucci's work at the Savoy is "a total departure from anything I would ever have done," Polizzi says. "And it works, wonderfully."
Experience the best of design and style across Europe while staying at Brown's Hotel, Villa Kennedy, Verdura Resort, Hotel De La Ville and Hotel Savoy.